Mission to Nepal
The Parish has had a mission link with Nepal for many years.  In the early nineties we supported Alison and Mark Gill through Church Missionary Society Ireland.  Mark is an engineer and Ali a nurse.  Through their work with the United Mission to Nepal we built up some awareness of that country and of the growing Christian Church.  After many years of service in Nepal, Mark and Ali returned home in June 2013.
We also as a parish adopted Deirdre Lloyd as a mission partner.  Deirdre from Dublin trained as a nutritionist and went to Nepal to work on the nutritional programme of the United Mission to Nepal.  After some years she met Mark Zimmerman from America who until December 2005 was Medical Director of Patan Hospital.  Mark has many years experience of Nepal and they were married in 2000.  They now have two children – Zachary and Benjamin.  As well as looking after the children Deirdre continues to work part time in the field of nutrition with a Nepali NGO Nutrition Promotion and Consultancy Service.
A team from the parish was introduced to the work of this NGO when they visited Nepal in November 2009. This led to support being offered by the parish and especially to nutrition work in the Balkhu slum by the Bhagmati River in Kathmandhu. The St Patrick's Choir produced a music CD, of which the proceeds were split between the Balkhu slum and Dadeldhura Hospital in Western Nepal. Each year further financial support has been given including the money raised through the "Fit for Life" evenings in the summer of 2012. Several parishioners visited the slum in 2010, 2011 and in 2012 a project with primary school children was undertaken.
Mark Zimmerman has established what is known as The Nick Simons Institute for Rural Health Care.  This is an area where there is great need.  Most people want to work in big centres of population and not in rural areas.  This venture will seek to make rural work more attractive by giving all sorts of support and training.  It is being funded by a rich American in memory of his son who fell in love with Nepal.  Although the father is not mission minded Mark is determined that it will have Christian principles and will in fact carry out the work of mission.  The present mission hospitals in Nepal will provide most of the training.  Mark and his team, while not requiring money would very much ask for our continuing prayer support.
In the early 2000's Mark and Ali introduced us to a Nepali church which is primarily made up of people with disabilities. We were delighted to have the pastor Babu Kaji and his wife Goma with us in April 2007. This Christian community moved into a new building partly funded by this parish in the Spring of 2013. The parish continued in some measure to partner this church through the new partnership which has run its course.
Canon Lloyd and his wife Jane have visited Nepal many times.  They were able to see the work going on, give encouragement and bring home news and stories to further our partnership.  This partnership was enhanced when a parish team visited Nepal in November 2009.
The team in 2009 was made up of 10 members led by the  Canon Lloyd. The other members were Ian McKay, St Clair Beatty, Patricia McWhirter, Stephanie Johnston, Debbie Chestnutt, Cheryl Sinclair, Pamela Barr and Stephen Brown.
We were blessed indeed with a team that really did work together, with good health during our stay, with straight forward travelling, with a programme that evolved as we went which balanced spending time with our partners, doing work and having time for ourselves for spiritual refreshment and to do fun things.
The team threw themselves into the experience and got a very good taste of Nepali life and of the vibrant Christian community.  We managed within 3 weeks to simply be with our partners sharing and learning from them.  Thus we spent time with our Nepali partner church – in worship, in fellowship groups, in its outreach work with disadvantaged people.  We spent time with the Nepali NGO Human Development Community Service – especially appreciating the centre it facilitates for handicapped children.  And we spent time with Mark and Deirdre Zimmerman catching up on their work in rural health care and nutrition.  We painted, we levelled ground, we layed a drain, we painted murals and we talked at school assemblies.  Towards the end of our stay we were able to have a few days in Pokhara for relaxation and to reflect on our Nepali experience and how it could be an encouragement into the future.
In 2010 Canon Lloyd, and his wife Jane, Cheryl Sinclair, and Ian McKay were again in Nepal. They did some work with street children in the centre of Kathmandu and the Rector and Ian travelled to Dadeldhura in western Nepal where Mark and Ali Gill were at that time working.
In November 2011 Cheryl Sinclair, assisted by Canon Lloyd and StClair Beatty, undertook an art project with disadvantaged children at the ABBS school, sponsored by the NGO Human
Development Community Service. They also travelled out to eastern Nepal to view the project to which the Gills have moved.  In 2012 Canon Lloyd, Ian McKay and Cheryl Sinclair continued to develop our links with Nepal through a further visit and this included a project in the Balku slum with primary school children.
During the parish team's stay in Nepal in 2009 we met up with Ady Camacho. Ady from the Philippines, was doing mission work primarily with street children. A friendship grew which resulted in him coming to Northern Ireland in early 2013 to work for three months in the parish, and his work and witness were appreciated by many.
In May 2014 we renewed contacts with theNepali NGO
Human Development Community Service when Shreya Thapa who works for them spent a week in the parish.
NEPAL TEAM 2014
The partnership with Nepal was further enhanced with the visit of a team from the parish from 27th October – 13th November. Cheryl Sinclair and Ian Mckay were returning once again, Debbie Chestnutt had been on the previous parish team but it was a new experience for Anne Todd and Nicola Burnett. Canon Lloyd, an old hand, made up the team. It was based at the Goshen Guesthouse near Jawlakhel in Patan which is a city that merges into Kathmandu
For the first week the team worked in a Transit Home for women with mental difficulties and who were homeless. It was run by an organisation called KOSHISH which in Nepali means "making an effort". There is still a great stigma in Nepali society re mental illness and the government is only beginning to tackle the problem. KOSHISH has been to the fore in terms of advocacy over mental health issues and has placed it firmly on the government's agenda.
The team undertook a craft project with the women in the Transit Home – helping them to sew designs unto plain linen bags. They each then had their own individual bag which they could use and also hang above their beds. The team was inspired by the initiative and work of KOSHISH and was humbled by the experience of coming alongside these women. The members were grateful for being allowed to work in this context and were grateful for the response they received from the women. The team would hope to continue to support the work in some small way into the future.
It was a 7 hour journey east by twisty roads hanging to the sides of hills to undertake the 2nd project. This was in Jiri, a small town over 6000 feet up but set in a beautiful valley surrounded by massive hills. Jiri used to be the starting place for all expeditions to Everest – until an airport was built at Lukla. The team was to work at Jiri Hospital and discovered on arrival that one of the planned works – building a walkway – had already been completed but thankfully using the £1000 pledged by the team.
Yet there was no shortage of work. Asked to paint some wards they were soon transformed with new curtains also donated. The team also had to tackle a long hospital wall – painting the hospital name in large letters and then undertaking a lengthy butterfly mural. It was good that doctors, nurses and others contributed to this mural. The hospital made the team feel very much part of the family, looked after it well and really appreciated its engagement. The team itself had a wonderful experience in a beautiful setting.
Engaging with the Nepali church is also quite an experience. The church is very young free, vibrant and growing. The team was able to attend worship with the Zimmermans in Kathmandu and then to find its was to the Christian church in Jiri. In both places the members of the team were encouraged to the front to sing! Mind you it had practice as devotions for the team each morning included songs.
While in Nepal the team was also able to follow up on other contacts. Canon Lloyd was able to visit the Nepali church with which we had contacts in the past and to see the new building which the parish in a small measure had helped to finance. The team also visited HDCS and caught up with Shreya Thapa who had visited the parish earlier in the year.It also went to the Balkhu Slum where parishioners had worked before and met up with Pastor Daniel. Again some time was spent with the Zimmerman family – partners for many years – and we heard updates on Mark's work with NSI and Deirdre's work with NPCS. At least maintaining these contacts encourages us to continue prayer support and may give rise to further mission teams and further projects.
in May 2015 Nepal suffered 2 devastating earthquakes which impacted on all our mission partners. They have all been involved in relief work and in planning for the future and we have sought to support them. We had special times of prayer and we had a financial appeal which raised over £5,300. Much of this money was channelled through the Church Mission Society to be used by HDCS and the CMS partner church. As a parish we were distressed to hear that Jiri Hospital and town where the parish team had worked just a few weeks previously was badly damaged and £1,900 was sent to the hospital. At the same time donations were sent by members of the Nepal Team to Pastor Daniel and to the Transit Home in Kathmandu. In June parishioners were involved in transporting 120 water purification systems and other camping equipment to Nepal. The needs of that country remain a focus for our prayer.
Mission to India

The parish has been linked with St Columba's Hospital Hazaribagh in North East India for many years.
In 1892 five clergy and a nurse went out from Ireland to start work in this area.  From these small beginnings grew the great Irish foundations of St Kiran's Girls School, St Columba's Boys Collegiate School, St Columba's College and St Columba's Hospital.  These have been served by generations of missionary clergy, doctors, nurses and teachers mainly from Ireland.  Now the work continues in the capable hands of fully trained Indian staff under the auspices of the Church of North India.
The hospital is in a poor part of the country and its proud boast is that it never refuses treatment to anyone because of inability to pay.  Most of the work of the hospital is concerned with maternity care and despite a great shortage of doctors and limited resources the hospital has a very high reputation in the area.
Communication with the hospital though difficult in the past is improving, with regular phone calls or emails.  Canon Lloyd has made several visits, and in 2010 he was accompanied by Ian McKay to witness first hand the dedication of the staff and the impact they are having on the local community. The hospital faces many challenges including a great shortage of doctors and nurses.  Because of the pressures they are under the hospital truly values interest and support from Ireland.  We try to pray regularly for them and raise considerable sums of money which is channeled through 'The Friends of St Columba's', a Northern Ireland group of which Canon Lloyd is the Chairman.  The plastic milk collecting bottles have proved very popular in the parish.  The Friends have recently provided a 300 foot deep bore well, a Neo Natal Resuscitation Bed, an extra generator and solar lighting.  St Columba's Dunclug takes a special interest in the hospital and each year has several special appeals.  The hospital and the local St Stephen's Church are remembered regularly in prayer at our three churches.
In the autumn of 2013 Canon Lloyd and Ian McKay again spent three weeks at the hospital. As well as giving moral support to the hard pressed staff, and assisting in some practical ways, they were able in some measure to assess the situation at the hospital and its possible future. Most mission hospitals are struggling to survive and new initiatives are required to give a hospital like St Columba's a way forward.
CMSI Project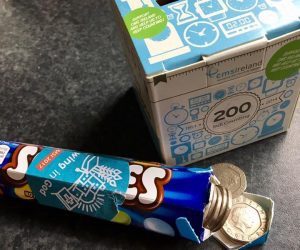 Each year the parish undertakes the C.M.S.I. Project.  This is primarily for young people and by looking at a different area of mission each year it seeks to give them an understanding of mission and the wider church.  It also raises money for a particular cause. This years CMS project  is called 'Growing in God'. So far we have covered disciples – people who love Jesus and follow him. Disciples grow in God as members of God's big family and as we grow in God's family we learn more about God.
Our Bible Fellowship takes a particular interest in the mission body Crosslinks.
Our youth ministry seeks to broaden the horizons of our young people and several of them have had mission experience abroad.
Over the last years some of our young people have been to Togo, Uganda, India, Romania,  Slovakia and Spain.
Each year the parish gives financial support to a wide range of mission bodies.
We annually organise the Samaritan Shoe Box appeal.
in 2014 the Ballymena Church Members Forum representing people from a variety of churches in the town, organised a mission trip to Ethiopia in partnership with Habitat for Humanity. The inter-church team worked on a water sanitation programme and two of our younger parishioners -Stephanie Allen and Taylor Ross appreciated very much being part of the project. Our parish was pleased to host the main fundraising event for the team a concert by "the Priests."