The Officers of the Church are the Churchwardens, the Glebewardens, the Honorary Secretary, and the Honorary Treasurer. All of them are members of the Select Vestry.
There are six Churchwardens, who are responsible for ensuring that our three churches are ready for worship every Sunday. This includes opening the churches, supervising the lighting, heating and sound systems, and handing out Prayer Books and Hymnals to worshippers as they arrive. They are also responsible for overseeing the collection of the Offering, as well as maintaining order in the body of the church during services. There are two Churchwardens for each of the three churches. One of each pair is appointed by the Rector, and the other is elected at the Easter Vestry.
ST PATRICK'S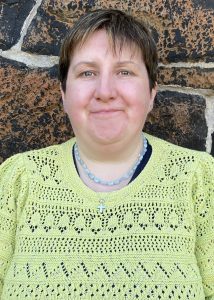 I am the youngest of three children in my family.  I grew up in Randalstown.   After finishing my education I studied in the hair and beauty industry.   Later I was employed as a Youth and School Worker.
My prayers were answered when and I meet Hugo, whom I later married.  I enjoy our family life and being working together as Church Warden with Hugo. 
Hugo Swan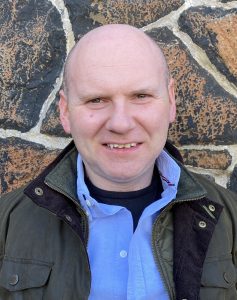 I grow up in Clough, County Antrim.  From an early age I attended Sunday school.  I went to St James' Church of Ireland and was Church Warden in St James', a number of years ago.  I helped out in whatever way I could.  I am a member of the Masonic Lodge.  I enjoy shopping and going to watch rugby, of course it would be Ulster Rugby!
Heather and I meet in 2016.  Our relationship deepened and we eventually got married.  Rev Mark McConnell played a part of our 'big day'.  I enjoy going out for coffee with my wife, Heather.  We love life together and look forward to many years to come.

Alex McNeill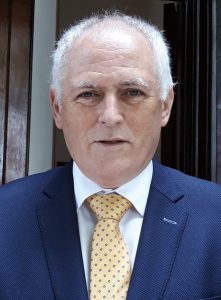 I am employed as a manager within the public sector.  I started to attend Ballymarlagh after my marriage to Ruth.  I was asked to be the Rector's Church Warden in the middle of a pandemic when church gatherings was/and is very different from previous years.  I had the honour of being asked again to take up the role as Rector's Church Warden, for another year.  I have got to know the parishioners who attend the services at Ballymarlagh.
My interests include beekeeping, antiques, photography and gardening.
Jackie Greer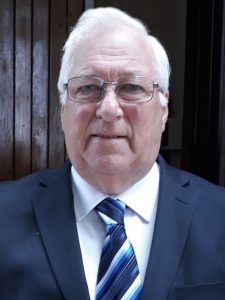 I was an engineer with the Merchant Navy and worked with local companies following my time with the Merchant Navy.  After meeting my wife, Vera, I joined St Patrick's Parish Church.  Vera and I have three grown up children and have now been blessed with grandchildren.
I enjoy my role within the parish which includes; preparing the church for worship, keeping the grounds around the church tidy (along with a group of volunteers).  I enjoy caravanning and travelling abroad.  I have served as People's Church Warden for 15 years and I am grateful to the Ballymarlagh congregation for their continued support.
ST COLUMBA'S
StClair Beatty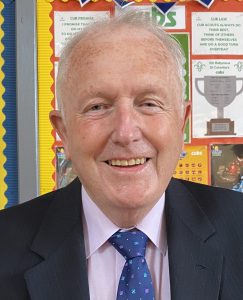 Now in my 70's, married to a long suffering wife Elizabeth for over 50 years. We have three sons, two living in England and one at home. We have been blessed with 7 terrific  grandchildren. We have lived in Ballymena for 46 years.
In my early years I was an officer in the Merchant Navy  and came home to marry Liz. My career has been varied including being a sales representative. Cash and Carry manager, Human Resource  manager, management trainer all of which I enjoyed.
I feel I have been fortunate in life and feel God has been with me through good times and bad but am still trying to understand why we have to work so hard to bring all Christians together as one.
As I am now  long retired,during the past years Covid lockdown my time has been taken up. being a school governor, taxiing for grandkids, some gardening and a bit of watercolour/acrylic  painting
Barry and I have been churchwardens before so I know he will keep me right.
Barry Duke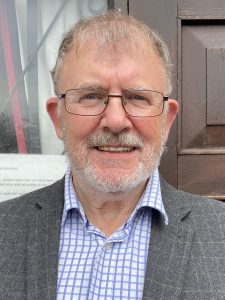 In preparing a personal pen portrait about me there are several adjectives which spring to mind – handsome, social, gifted,  – none of which can be used under the trade description act.  I will let those who know me suggest alternatives.
I am married and have two grown up children – one in Surrey and one in Edinburgh, and two grandchildren in Surrey.
I have been a member of St Columba's Dunclug for about 44 years. I feel very much a part of this wee church and have been involved over the years with many aspects of it from doing a feasibility study for our extension to running a youth club. At our peak I was Sunday School Superintendent with a roll of 105 children.
I am a Mechanical Engineer by qualification though I have worked in a range of jobs. My prime interest before I retired last year was machinery safety and European standards.
I have also retired from being a Parish Reader after 15 years.
My first appointment as Churchwarden was 1978-1979 and I have served several more times since. I am pleased and privileged to take up the post again and look forward to a return to normality or something near it!
Billy Taylor and Billy Gillespie are our Glebewardens, who deal with any issues relating to the buildings and land owned by the Church. There are two Glebewardens, one of whom is appointed by the Rector, and the other is elected at the Easter Vestry.
Ronnie Flemming is the Honorary Secretary, who records minutes at each meeting of the General Vestry and Select Vestry. He receives official correspondence to the parish, and issues correspondence when directed to do so. The Secretary is elected at the first meeting of the Select Vestry each year.
Richard Cotter is the Honorary Treasurer, responsible for overseeing the financial resources of the parish, assisted by the Finance Committee. Richard receives invoices, issue cheques on behalf of the parish, and prepares the financial accounts for auditing each year. The Treasurer is elected at the first meeting of the Select Vestry each year.
---