The Rector Mark McConnell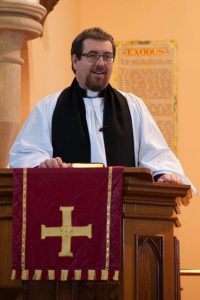 Mark was instituted as Rector of the parish on 1st June 2016. A native of Lisburn, Mark was very involved in the life of Lisburn Cathedral. After school Mark had several jobs within the Northern Ireland Civil Service, finishing his career there in what was IDB House, now the House of Fraser store in Belfast. After coming to faith in his mid-twenties a clear call began to serve God. This led to training at Oakhill Theological College in North London followed by ordination to the Diocese of St. Albans and a curacy in Christ Church Bedford. This was followed by ministry in Bangor Parish, Killyleagh Parish and the United Parish Ballynure & Ballyeaston (Ballyclare).
Mark is married to Cherith and they rejoice in their three children Daniel, Matthew and Erin. Mark enjoys following all sports especially his beloved Tottenham Hotspur, Chicago Bears and Ulster Rugby. Reading for relaxation, collecting old records, fishing (badly) and when fit long-distance walking are some of his other interests.
Reflecting on his move to Ballymena Mark is deeply humbled, surprised and trusting in God as He watches and listens in these early months. He is looking forward to getting to know the parish family in Ballymena and even remembering some of your names in say 10/15 years time!
To contact Mark please email mmcconnell60@yahoo.co.uk  or tel 077 5954 5932
The Revd Dennis Christie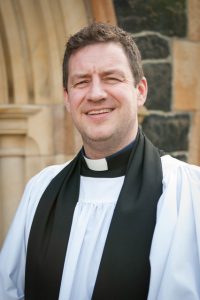 Dennis joined the parish as a curate in September 2016.  Originally from Limavady, Dennis became a Christian in his early 30's shortly after he and his family joined St John's Church of Ireland in Moira.  After joining a local church home group, he committed his life to Christ, and felt a strong calling by God into the ordained ministry and to spread the good news of Jesus to others.  After leaving his job as a Consulting Engineer, based in Belfast, in September 2013, Dennis began his training at Church of Ireland Theological Institute in Dublin.
Dennis is married to Jennifer and they have three children Abby, David and Jonathan.  The family feel that the challenge of settling into our their new surroundings has been made all the more manageable with the kids getting on well in their new schools and of course the warm welcome they have all received by their new church family in the Ballymena parish.  As a family they have felt a strong calling by God to Ballymena, which is continuing to be affirmed during their time here.  Dennis feels that God has greatly blessed him and his family since taking the step into the ordained ministry and is enjoying serving in Ballymena alongside Reverend Mark and encouraging the people to trust in the Lord and spreading the life-transforming good news of Jesus Christ.
To contact Dennis, please email revdennischristie@gmail.com or mobile 075 0060 7448