The Church of Ireland in Ballymena is officially known as the parish of Kilconriola and Ballyclug. We are one parish of many that make up the Diocese of Connor, which is approximately the area of County Antrim. There are twelve dioceses in the Church of Ireland with parish churches spread across the entire island, with the majority of Anglicans living in Northern Ireland. The Church of Ireland is in turn part of the world wide Anglican Community comprising over eighty million people with a growing membership in many parts of the world.
The Church of Ireland traces its history back to the early days of Christianity in Ireland.
St Patrick is generally recognised as having firmly establis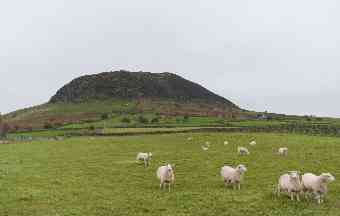 hed the Christian Church in Ireland. During the fifth century he was brought to Ireland as a slave and is believed to have lived at Slemish, close to Ballymena. Two of our three churches are named after him. Our third church is named after another important ancient saint, Columba.
As well as being a church rooted deep in history, we believe we have something very positive to bring to people today.
We live in a marvellous but messy world.  There is a lot of brokenness and hurting, and yet there are glimpses of the glory of God.  Despite the peace process in Northern Ireland there is a still tiredness arising out of many years of trouble and a certain disillusion with religion.  People fear for the state of society and for the next generation.  The Christian gospel faces up to the reality of this brokenness – it places sin centre stage.  Yet it also proclaims good news – there is a way through, there is certain hope.
Through the life, death and resurrection of Jesus victory has been won over all the dark forces.  Through identifying with Jesus all can be freed from the things that would drag them down and freed for a full and joyful life.  Good news indeed – each and every one of us loved by God who longs for us all to have life and for his kingdom to come on earth as in heaven.  This is our challenge: to accept this good news into our hearts and to share it with our hurting world.
As a church family we seek to take up this challenge.  Despite all our limitations we pray that God can still work through us to further his purposes. As a church family we are seeking to make friendships with God, each other and the wider world and to do so in a spirit of thanksgiving, service, love and humility. We encourage church members to find new ways to carry out our mission, implementing it through church activities and also in our daily lives.
If you want to know about the people involved in our church, click here.
To learn about children's ministry, click here.
If you're interested in activities that seek to develop your Christian faith, click here.
For information on the ministry of healing and prayer, click here.
To find out how our parish is engaging with the world at home and abroad, click here.
To learn more about the Church of Ireland, click here.
To learn about our style of worship, and about special services such as weddings, baptisms and funerals, click here.
If you want to find out about the management structure of the parish, click here.
For information relating to the clubs and organisations within the parish, click here.