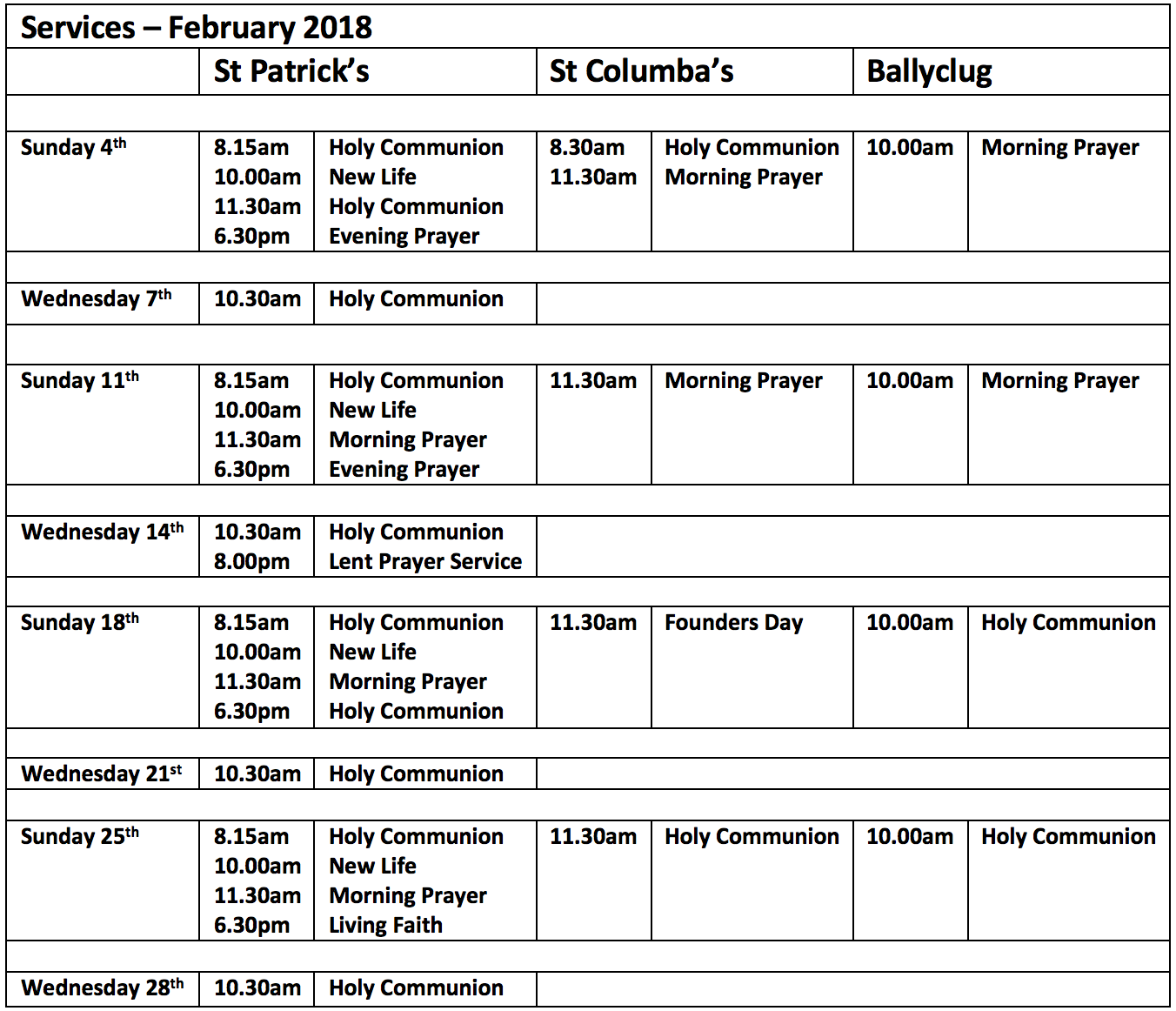 MAKING FRIENDSHIPS
WITH GOD
'THE WAY' YOUTH FELLOWSHIP –  Tonight at 6.30 pm in the Minor Hall.
HEALER PRAYER GROUP –  Tuesday 7.15 pm in the Clergy Vestry.
BIBLE FELLOWSHIP – Meet on Tuesday at 8.00 pm in the Choir Vestry. Everyone welcome.
ALPHA & 'LIFE  WORTH  LIVING' – If you attended and enjoyed either the Alpha or the Life Worth Living course last year, you are invited to the Rectory on Friday, 23rd February at 7.30 pm for a cuppa and a chat about what's next.
MID WEEK  –  Holy Communion on Wednesday at 10.30 am in St Patrick's.
PRAYER SUPPORT –  Team Leader – Alex McKay – Tel No. 2564 4698.
MINISTRY OF PRAYER – After morning and evening services in St Patrick's in the Prayer Space.
CMSI PROJECT –  Crossing Bridges – CMSI boxes are available at the back of Church.
LENTEN REFLECTIONS – Ballyclug Church on Wednesday at 7.30 pm, Big Words for Lent – Grace'.  All welcome.
LIVING FAITH –  Next Sunday in St Columba's Church at 6.30 pm.  Speaker Billy Moore, Lay Reader in Lisburn Cathedral.
WITH EACH OTHER
SOUP LUNCH  – Next Sunday (25th February) after 11.30 am service.  All welcome.  Funds raised in aid of Summer Madness.
FUNDRAISING CTE. –  Meeting on Tuesday at 7.30 pm in the Jubilee Room.
MAGAZINE – Material for March issue to Office by 12 noon on Wednesday please.
STILL ACTIVE – Wednesday at 2.00 pm.  'Granny's spoons' Christine Williams.
JUMBLE SALE – The CLB  'Grand Spring Jumble Sale' will be held on Friday, 2nd March.  Donations of bric-a-brac, clothes, furniture, books, toys, unused gifts, groceries and cakes will be gratefully received.  Anything you would like to donate can be brought to the halls anytime on Thursday, 1st March and if you need items collected contact Alan Ross: 2589 2740 or 077 5991 6755.
SUMMER MADNESS – Please support our young people who going to Summer Madness by taking a Fireside quiz (£2). These are available at the back of Church.
VISITING THE SICK –  Please inform the Clergy if you know of anyone who is sick and requires a visit either in hospital or at their home.
FLOWER ROTA – The rota for 2018 is now available in St Patrick's.
WITH THE WORLD
CLIVE WEST MEMORIAL LECTURE –  A Lecture will be given by Bishop Michael Nazir-Ali on the topic 'Only one way?' in All Saints' Church, Belfast on Tuesday, 20th February.  If you wish to attend please inform the Clergy.
ST PATRICK'S NIGHT CONCERT & SUPPER – Tickets are on sale from the Church Office, Church  Wardens and Good Morning Ballymena for the St Patrick's Night Concert on Saturday, 17th March at 7.30 pm in the Church Hall.  You may pay at the door, but for catering purposes it would be helpful if you could buy your ticket/s in advance.  Programme includes a Castle Players' sketch, featuring Canon Stuart Lloyd and Evelyn Riddel.
Contact us

email: kilconriola@btconnect.com

phone: 028 2563 0741 (general enquiries only)

post: Church of Ireland, Castle Street, Ballymena. BT43 7BT

Northern Ireland Charity number: NIC103115
Remember – you can always donate to the Parish as you shop on-line through easyfundraising!

We are proud to announce that St Patricks church received funding from the Heritage Lottery Fund for repairs to the Bell Tower and Church