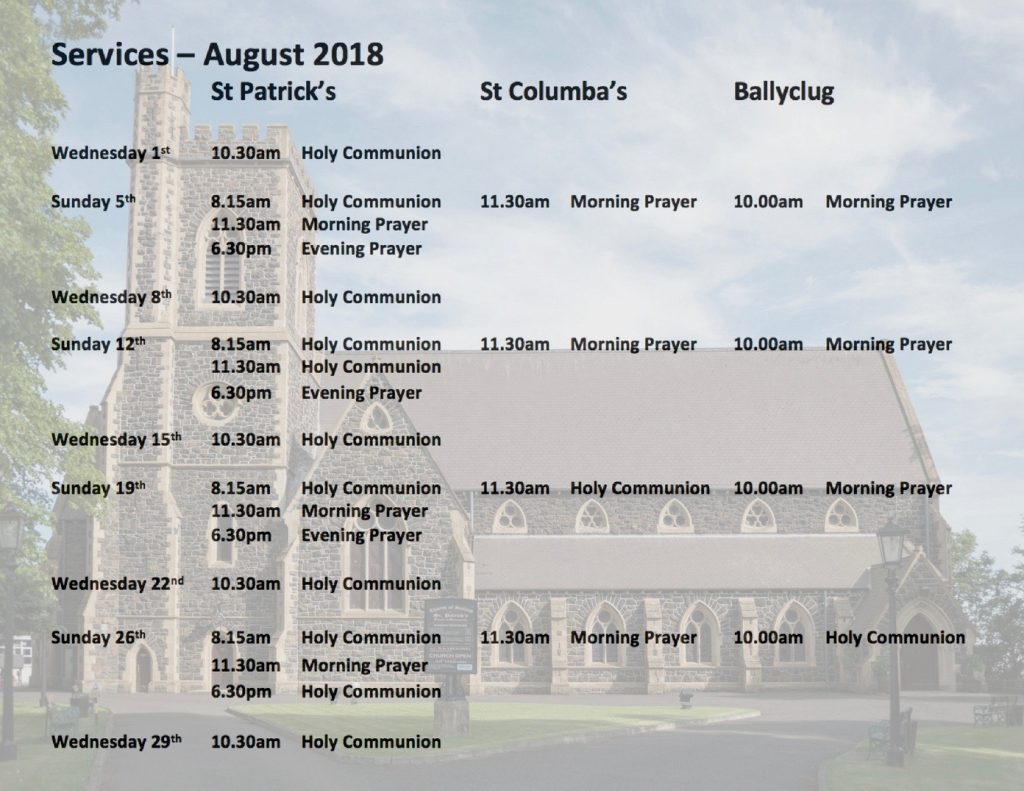 WEEKLY NOTICES – 
MAKING FRIENDSHIPS
WITH GOD.
MID WEEK –  Holy Communion on Wednesday at 10.30 am in St Patrick's Church with refreshments afterwards. Please note that there will be no tea/coffee during  July and August. 
MINISTRY OF PRAYER – After morning and evening services in St Patrick's in the Prayer Space.
VISITING THE SICK –  Please inform the Clergy if you know of anyone who is sick and requires a visit either in hospital or at their home.
CHILDREN'S  CHURCH –  Following 11.30 am Service in St Patrick's Church.
WITH EACH OTHER
SUMMER SCHEME FOR PRIMARY SCHOOL CHILDREN –  Monday, 13thto Friday, 17thAugust from 3.00 pm – 6.00 pm.  £2 per child.  Contact Lucy 077 59950497 to book a place.  If you can help with this scheme, please let Lucy know.
WITH THE WORLD               
Contact us

email: kilconriola@btconnect.com

phone: 028 2563 0741 (general enquiries only)

post: Church of Ireland, Castle Street, Ballymena. BT43 7BT

Northern Ireland Charity number: NIC103115
Remember – you can always donate to the Parish as you shop on-line through easyfundraising!

We are proud to announce that St Patricks church received funding from the Heritage Lottery Fund for repairs to the Bell Tower and Church