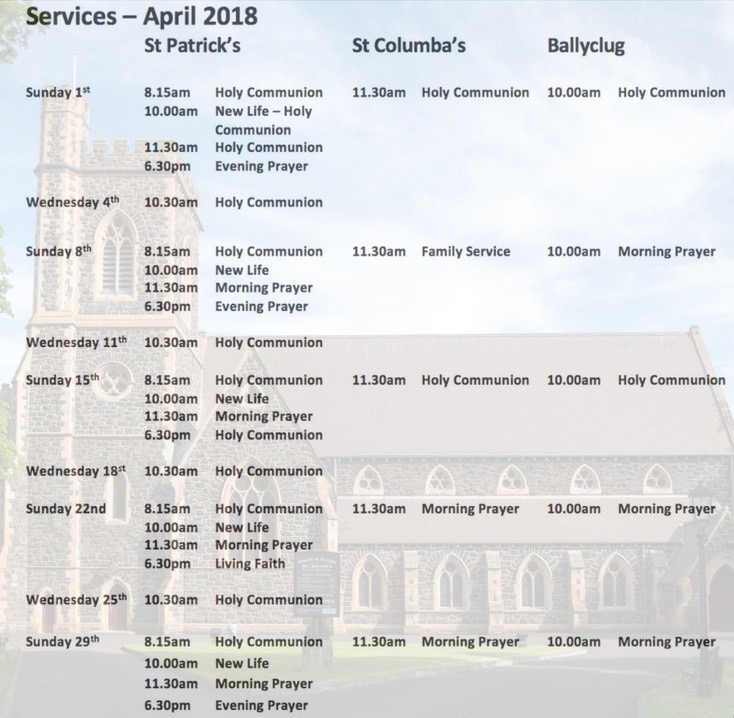 MAKING FRIENDSHIPS
WITH GOD.
MID WEEK  –  Holy Communion on Wednesday at 10.30 am in St Patrick's.    
PRAYER SUPPORT –  Team Leader – Eleanor Burnett – Tel No: 075 1736 5589.
'THE WAY' YOUTH FELLOWSHIP – Sunday, 15th April at 6.30 pm in the Minor Hall.
MINISTRY OF PRAYER – After morning and evening services in St Patrick's in the Prayer Space.
VISITING THE SICK –  Please inform the Clergy if you know of anyone who is sick and requires a visit either in hospital or at their home.
HEALER PRAYER GROUP –  Tuesday at 7.15 pm in the Clergy Vestry.
BIBLE STUDY – 

Meet on Tuesday at 8.00 pm in the Choir Vestry.  Everyone welcome.

LIVING FAITH –  Next Sunday in St Patrick's Church at 6.30 pm. Healing: Brother David Jardine.  All Welcome.
WITH EACH OTHER
THANKS  – To outgoing Churchwardens and best wishes to the  incoming ones:
St Patrick's
William Gillespie (Rector's)
Gillian Gillespie (People's)
Ballyclug
Letty Kettles (Rector's)
Jackie Greer (People's)
St Columba's
Elizabeth Peachey (Rector's)
Marie Semple (People's)
STILL ACTIVE –  Wednesday – Annual General Meeting and Fun with Balloons – Revd Amanda Adams.
MOTHERS' UNION – Council meet on 17thApril at 7.30 pm in St John's, Crumlin. Mid Connor Area Coffee Morning in St Patrick's Parish Church Hall on Saturday, 21stApril from 10.00 am – 12.00 pm.  Admission £3 (including refreshments).  Proceeds to MU Relief Fund.  Please support.
FUN WORKSHOP – 'Godventure', Newtownards on Saturday, 21st April.  This is a fun workshop for those in primary schools.  The bus will be St Patrick's at 9.00 am and will return at 3.00 pm.  Please see Lucy for Consent Forms.
BALLYCLUG BUS – Sadly James Henry can no longer provide a driver on Sundays for the Ballyclug bus.  We want to keep this service going so if anyone from the congregation who has a current PSV (Taxi Driver) Licence or who knows someone who could drive the bus and could help, we would ask them to contact the Office.  In the meantime if you use this service, please speak to your Ballyclug friends to organise a lift.
FIRESIDE QUIZ – Congratulations to Valerie Alexander and L. Hunter who were winners of the Summer Madness Fireside Quiz.
COFFEE MORNING  Saturday, 28th April from 10.00 am – 1.00 pm in St Patrick's Church Hall in aid of Summer Madness and youth funds.  Your support will be most appreciated.
WITH THE WORLD
Contact us

email: kilconriola@btconnect.com

phone: 028 2563 0741 (general enquiries only)

post: Church of Ireland, Castle Street, Ballymena. BT43 7BT

Northern Ireland Charity number: NIC103115
Remember – you can always donate to the Parish as you shop on-line through easyfundraising!

We are proud to announce that St Patricks church received funding from the Heritage Lottery Fund for repairs to the Bell Tower and Church