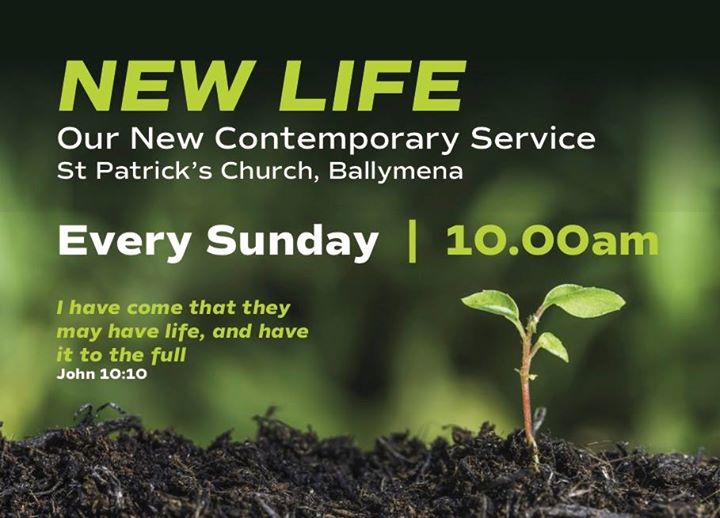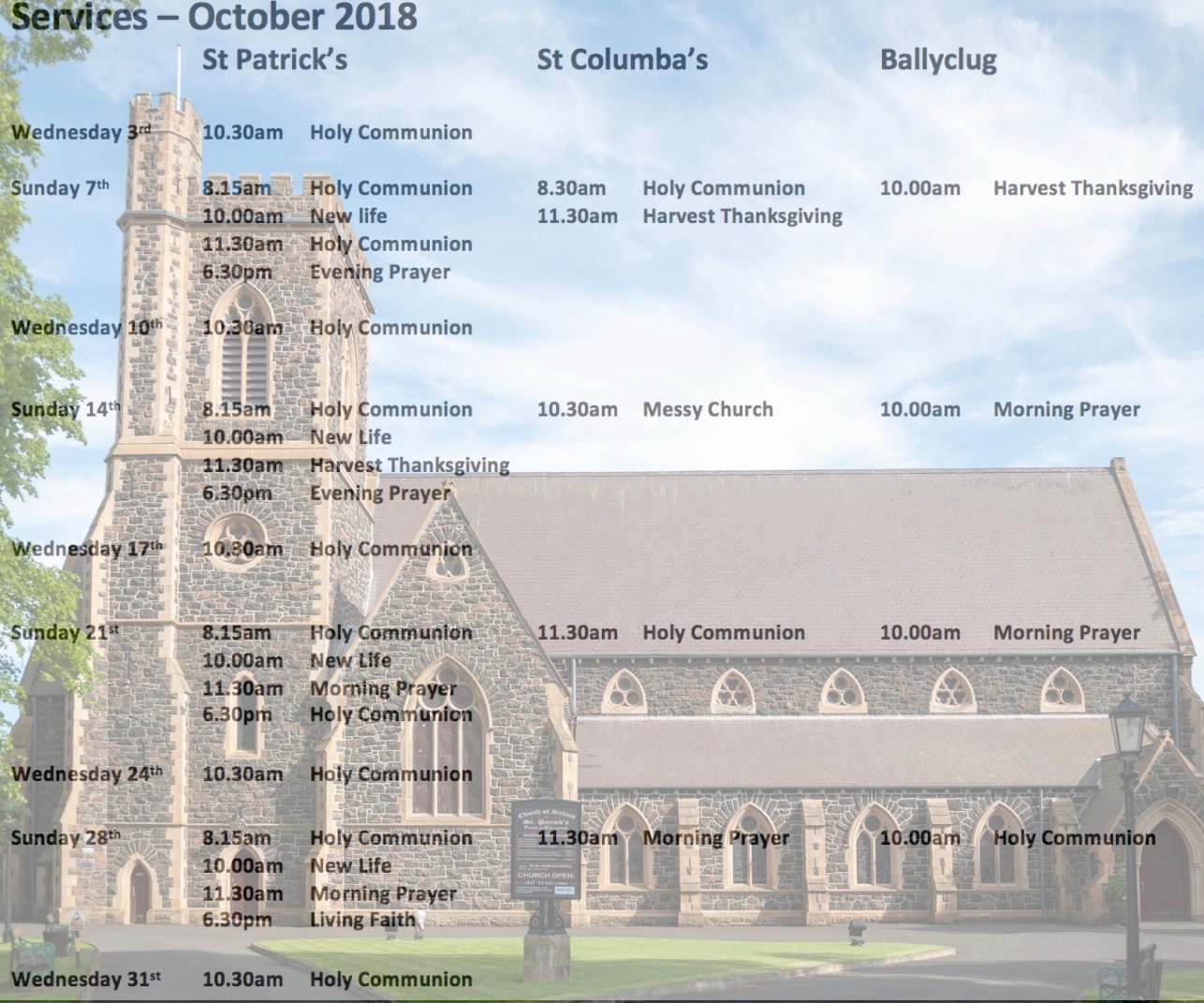 MAKING FRIENDSHIPS
WITH GOD.
SERVICE CHANGES – Living Faith Service tonight at 6.30 pm in St Columba's Church.  Revd McConnell will preach on the theme of Light.  There will be no 6.30 pm service in St Patrick's Church this Sunday evening.  Holy Communion will take place in St Columba's next Sunday at 11.30 am and in St Patrick's at the evening service at 6.30 pm.
HEALER PRAYER GROUP – 

Tuesday 7.15 pm in Clergy Vestry.

BIBLE FELLOWSHIP –  Tuesday at 8.00 pm in the Choir Vestry.  Everyone welcome.
MID WEEK –  

Holy Communion on Wednesday at 10.30 am in 

St Patrick's with refreshments afterwards.

GOOD BOOK CLUB – Please note change of date.  Good Book Club will be held on Thursday at 7.00 pm in the Minor Hall.  All welcome.
'THE WAY' YOUTH FELLOWSHIP –  Sunday, 28thOctober at 6.30 pm in the Revd Dennis' house.
PRAYER SUPPORT 

Team Leader – 

Eleanor Burnett: Tel No. 075 1736 5589.
MINISTRY OF  PRAYER – After morning and evening services in St Patrick's in the Prayer Space.
VISITING THE SICK 

Please inform the Clergy if you know of anyone

 

who is sick and requires a pastoral visit either in hospital or in their home.

      
WITH EACH OTHER
LADIES' CIRCLE – St Columba's tomorrow night at 8.00 pm.  The speakers will be Abby and Jen Christie talking about Mission USA.  New members are welcome.
MAGAZINE –  

Material for November issue to office by Wednesday.

MOTHERS' UNION MEMBERS  – Invitation to Broughshane MU on Wednesday at 7.30 pm.  Demonstration by Jaynes Kitchen. If you require a lift please contact Patricia or Jean.
CHRISTIAN AID CONCERT –  Saturday, 27thOctober at 7.30 pm in the Ulster Hall, Belfast.  Something for everyone.  Performers include: Downshire Brass, Belfast Operatic Company, Ireland Salvation Army children's choir, etc.  Tickets from £12, available from the Ulster Hall box office.  Tel No. 028 9033 4455 or online.
5TH BALLYMENA (ST COLUMBA'S)  SCOUT GROUP –  Curry & Quiz Night on Friday, 2ndNovember 2018 in St Columba's Church at 7.00 pm. Tickets £10.  There will be a Quiz, Raffle, Musical Entertainment and Curry! Proceeds will be split between Parish Funds and 5thBallymena Scouts who are raising funds for Ellie Hughes, who is taking part in the 24thWorld Scout Jamboree which is being held in West Virginia, USA next year.  Tickets available from Heather & Andy Clarke, Liz & Les Hughes or Helen Weir.
LADIES' NIGHT – Wednesday, 21stNovember in Creative Gardens at 6.00 pm. Shortbread and mulled wine, fork supper and late night shopping.  Please contact Lucy for tickets.  Cost £10.
WITH THE WORLD 
SHOE BOXES – This is the last day for return of boxes for the Samaritan's Purse Operation Christmas Child Appeal.  Thank you to everyone who helped with this project.
CARE FOR THE FAMILY – Raising Faith.  Helping our children to find a faith that lasts.  Glenmachan Church of God from 7.30 pm – 10.00 pm on 15thNovember.  If you would like to go please contact Lucy: 077 5995 0497.
Contact us

email: kilconriola@btconnect.com

phone: 028 2563 0741 (general enquiries only)

post: Church of Ireland, Castle Street, Ballymena. BT43 7BT

Northern Ireland Charity number: NIC103115
Remember – you can always donate to the Parish as you shop on-line through easyfundraising!

We are proud to announce that St Patricks church received funding from the Heritage Lottery Fund for repairs to the Bell Tower and Church