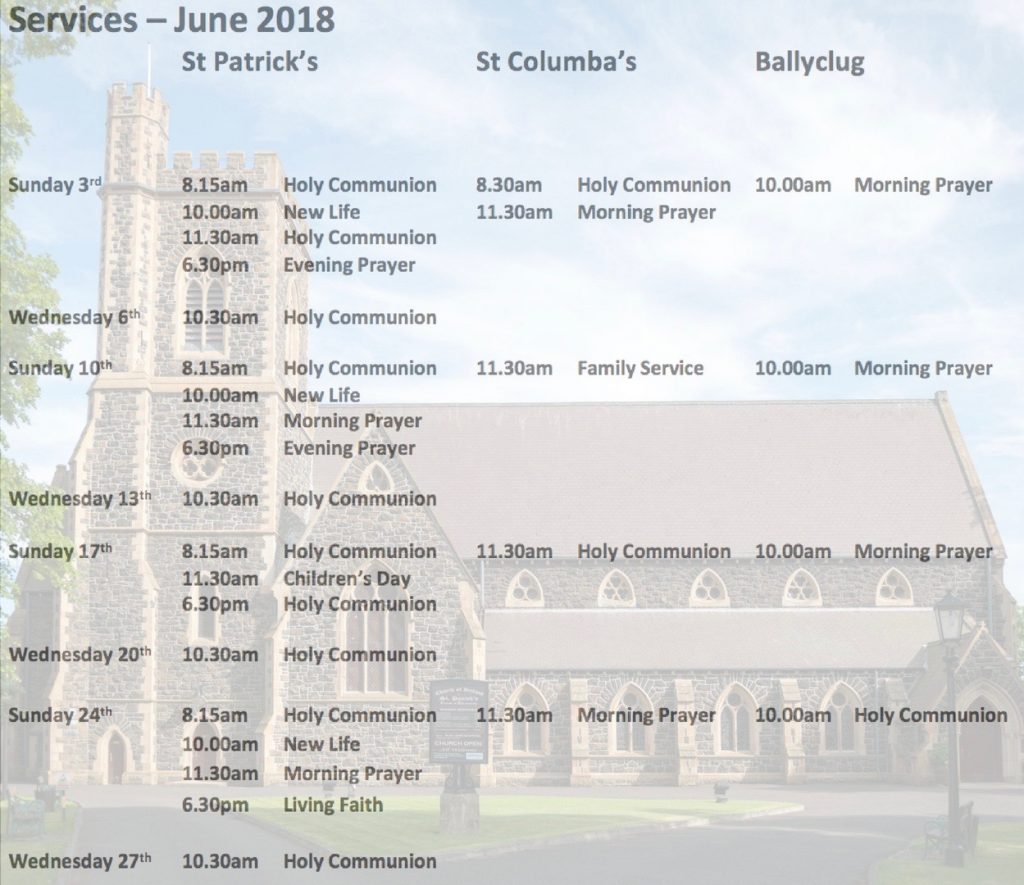 MAKING FRIENDSHIPS
WITH GOD.
LIVING FAITH – Tonight at 6.30 pm in St Patrick's Parish Hall. Theme: Resting in God's peace.  Speaker: Revd Mark McConnell.  Please come and join us.
HEALER PRAYER GROUP –  Tuesday at 7.15 pm in the Clergy Vestry.
MID WEEK –  Holy Communion on Wednesday at 10.30 am in St Patrick's Church with refreshments afterwards. Please note that there will be no tea/coffee during  July and August. 
GOOD BOOK CLUB  – Meet again Friday, 6thJuly in the Choir Vestry at  7.30 pm.  All welcome.
PRAYER SUPPORT –  Team Leader – Alex McKay– Tel No: 2564 4698
MINISTRY OF PRAYER – After morning and evening services in St Patrick's in the Prayer Space.
VISITING THE SICK –  Please inform the Clergy if you know of anyone who is sick and requires a visit either in hospital or at their home.
WITH EACH OTHER
MAGAZINE DELIVERERS –  We need your help with our 3T's project.  Come  and hear more and allow us to say 'thank you' with a wee supper this evening in the Minor Hall at St Patrick's at 7.30 pm.
FIT FOR LIFE –  Tuesday at 7.15 pm from St Patrick's Church Hall. This will be the last of the June walks.
SUMMER SCHEME FOR PRIMARY SCHOOL CHILDREN –  Monday, 13th– Friday, 17thAugust from 3.00 pm –  6.00 pm.  £2 per child. Contact Lucy 077 5995

0497 to book a place.

NEW LIFE NEWCOMERS – If you have started attending our New Life Services every Sunday at 10.00 am in St Patrick's over the past few months and are not as yet fully signed up members of our Parish – we would encourage you to use the membership sheet that will be at the back of Church over the next few Sundays.  That will help us welcome you properly. Please note that New Life Services will take a break over the summer months.  Our last service will be Holy Communion on 24thJune.  Re-commencing September.  God Bless.  Mark and Dennis.
CHILDREN'S CHURCH –  This will continue at the 11.30 am Service in 

St Patrick's during July and August.

DAILY BREAD – The Daily Bread Bible reading notes will be available at the back of Church at the end of June.  If you have not already paid for these notes, the Treasurer would like to receive your payment as soon as possible.  Thank you.
WITH THE WORLD               
FUNDRAISING PARTNERSHIP OPPORTUNITY – NEPAL –  Some of those we pray for and support in the Lord's 

work in Nepal have asked for our help.  The Koshish 

Project (working with disabled adults and children 

often abandoned by family) are seeking to begin a rural, agriculture-based rehabilitation project – giving is through a special online platform called Global Giving – a link is given below to let you sign-up and give.  There is an urgent deadline for the above – 28

th

June.  Koshish hope to have 40 donors and $5,000 by then – Can you help? Please sign up and join in.

'PRAISE IN THE   PARK'  –   'Praise in the Park'will be held on Tuesday, 3rdJuly from 7.30 pm in the People's Park.  Musicians from churches across Ballymena will praise God in song and word.  You are invited to come along but please bring your own seat or blanket! Everyone welcome.

https://www.globalgiving.org/projects/violence-against-woman-and-girls-nepal/
Contact us

email: kilconriola@btconnect.com

phone: 028 2563 0741 (general enquiries only)

post: Church of Ireland, Castle Street, Ballymena. BT43 7BT

Northern Ireland Charity number: NIC103115
Remember – you can always donate to the Parish as you shop on-line through easyfundraising!

We are proud to announce that St Patricks church received funding from the Heritage Lottery Fund for repairs to the Bell Tower and Church